About us
Cerca sulle gradinate di uno stadio in mezzo al fumo di una torcia..
Cerca nel pogo frenetico di un concerto..
Cerca al caldo di un pub, dietro una fila di bicchieri vuoti.. È li che ci troverai!
Dal 2012 No Fair Play è una linea indipendente di abbigliamento per chi vive la propria quotidianità in modo rude, diretto, ma non per questo scorretto, seguendo ferree regole non scritte.
Sottoculture e ambienti suburbani sono per noi fonte di ispirazione quotidiana. Mods, Skins, Casuals, ma anche Punks, Tattoo, tutto ciò che è alternativo e non semplice moda è dove attingiamo idee per le nostre produzioni. I nostri capi puntano a far emergere lo spirito libero, ribelle ed elitario di chi li indossa.
La continua ricerca di materiali di partenza, la miglior resa di lavorazione sui tessuti, lo studio dei particolari e l'amore per ogni produzione, ci fanno essere uno dei migliori brand emergenti. Il nostro scopo è quello di vestire il singolo individuo affinché emerga la sua personalità, evitando quindi produzioni per la "massa".
Hai un occhio critico su ciò che ti circonda? Sei stufo del finto buonismo che hai attorno quotidianamente? Vuoi esprimere la tua rabbia e il tuo cinismo anche attraverso il tuo abbigliamento? No Fair Play è ciò che fa per te! Benvenuto nella Crew.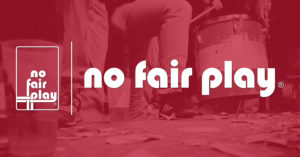 Look for us on the terraces, in the smoke of a flare..
Look for us at a gig, right in the middle of the pogo..
Look for us in the warmth of a Pub, behind a row of empty glasses.. That's where you'll find us!
Since 2012 No Fair Play is an independent clothing brand, for those who live their lives in a rude and direct way, based on strict, unwritten rules.
Subcultures and suburban enviroment are our daily inspiration.. Mods, Skinheads, Football Casuals, Punks, Tattoos .. everything considered alternative and not a simple fashion, is where we draw the ideas for our productions.
Our aim is to bring out the free rebel spirit and the elitism of whom wear our clothes.
The continue research of starting material, best printing tecniques, the love for every single detail of our productions, is what make us one of the best emerging brands.
Have you a critical eye on what goes around? Do you wanna express your anger and cynicism also through your clothes?
No Fair Play is the right choice for you! Welcome to our Crew!
Archivio
Scopri le produzioni passate e ripercorri la storia del nostro Brand.